The government has invested billions of shillings to revive and make Kisumu Port great again
After three years of dereliction, Kisumu Port is slowly finding back its clout thanks to a government that's determined to reposition the facility as a business hub for the Great Lakes region.
Government Spokesman Col (Rtd) Cyrus Oguna said the port has now been linked to its ocean counterpart in Mombasa through multi-billion-shilling investments in road infrastructure and the revamped Nakuru-Kisumu Meter Gauge Railway line (MGR).
Goods ferried through the Standard Gauge Railway (SGR) from Mombasa to Naivasha, he added, will be transported to Kisumu port through the revamped MGR line for onward shipment to various destinations through Lake Victoria.
The expansion of Rironi-Mau Summit Road and construction of Ahero, Kericho and Mamboleo interchanges, are also meant to facilitate seamless flow of goods from Mombasa to the western part of the country for shipment through the port to neighbouring countries.
This, Oguna said, is set to increase trade volumes for the upgraded port as more businessmen prefer Kisumu as the route of choice to ship their goods to Uganda, Tanzania and other East African countries as it is shorter.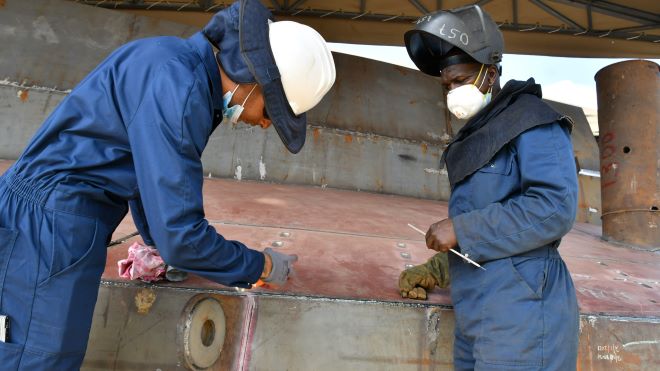 "The distance from Mombasa to Dar-es-Salam and Mombasa to Bukoba is far compared to Mombasa to Kisumu. Therefore, any businessman who is quick thinking would want to get to a route that is much shorter in terms of turnaround time," he said.
Speaking during a tour of the facility, Oguna said the government was doing everything possible to maintain that advantage and scale up business at the port. This, he added, will not only boost trade but create job opportunities directly and indirectly to benefit thousands of youths in the area.
Kisumu Port General Manager, William Ruto, said the facility which was reopened in 2018 has witnessed tremendous growth with cargo handling up from 3,000 metric tonnes in 2019 to 54,000 metric tonnes in 2021.
Fuel from the Kenya Pipeline depot, he said, was the dominant product shipped by MV Uhuru I from the port to Uganda with more companies showing interest in the business.
Captain Ruto added that Infra Energy Limited from Uganda is the latest entrant in the fuel shipping business with the potential of evacuating 3,000 to 4,000 metric tonnes per voyage.
"This capacity is equivalent to 160 trucks and thus reduces the damage caused by the vehicles on roads," he said, adding that the company has configured two ships to draw fuel directly from the Kenya Pipeline oil jetty and will start the business by end of March 2022.
Other products handled at the port include rice from Tanzania which is sold locally, crude palm oil from the port of Mombasa which is shipped to Uganda and fertiliser which is ferried to Uganda and Mwanza in Tanzania.
"Palm oil is a product we expect to scale up shipment through the port. We have had fruitful discussions with BIDCO Uganda which exports 70 per cent of the product from Malaysia," he said.
Ruto said the Kenya Ports Authority (KPA) has also agreed to allocate a storage facility for the firm in Kisumu to facilitate the trade.
Bamburi Cement, he added, has also approached the port management to allocate space to store cement before it is transported to Tanzania and Uganda.
"Bamburi has a big market in Tanzania with 50 trucks leaving for the destination every day. They are exploring the possibility of transporting the cement to Kisumu then to Mwanza through Lake Victoria," he said.
The company, he said, has been allocated space at the Kibos dry port to store the product from where it shall be shipped to Mwanza through Kisumu port.
The port has also shipped 16,000 metric tonnes of industrial sugar and beer to East Africa Breweries Limited (EABL) plant at Port Bell in Uganda.
The revived Nakuru-Kisumu MGR, he said, was set to bring in more business as the port looks to maximise on the multimodal transport system.
"It is faster to carry goods from Mombasa to Kisumu through the railway system which takes about 26 hours as compared to trucks which take longer," he said.
The manager also revealed that several investors have also expressed interest in operating cruise ships and water buses from the port, adding that KPA was building a passenger terminal in Kisumu to facilitate the business.
Kenya Railways Kisumu Operations Manager Michael Disi said the corporation was banking on the MV Uhuru II which is under construction to increase the capacity of cargo transported from the port to Uganda and Tanzania.
The 1,800 metric tonnes vessel is being built by the Kenya Shipyards Limited in Kisumu and is expected to be ready in August.
So far, MV Uhuru I, which was revived in 2019 and has a capacity of 1,260 metric tonnes, has shipped 74 million litres of diesel to Uganda through the Kisumu Port, he said, adding it has proved to be faster, cheaper and safer, saving businessmen time and wastage experienced when the fuel is transported by road.
"It takes 13 hours from Kisumu to Jinja and 17 hours from Kisumu to Port Bell making this the fastest means to transport the commodity to neighbouring Uganda," he said.
At the same time, Kenya Railways is charging Sh2,000 per tonne against the Sh3,600 charged by trucks making it the cheapest means to transport fuel.
Disi said the vessel made 23 voyages in 2020 and 44 in 2021, adding that the number was set to increase given the rising demand.
"We want to take advantage of the rehabilitated Nakuru-Kisumu Railway line so that containers arriving in Naivasha through the SGR are rerouted to Kisumu and loaded into this vessel for transportation to Uganda and Tanzania," he said.
Kenya Railways, he said, has purchased extra locomotives for the Nakuru-Kisumu route to ferry containers from Naivasha to Kisumu Port.
By Chris Mahandara