Two vehicles donated by two long-standing corporate partners of Transaid have arrived at the Industrial Training Centre (ITC) in Lusaka, Zambia, to begin a new life as training vehicles.
A Scania coach donated by Southern Vectis, which is part of the Go-Ahead Group, and a Volvo truck unit donated by the Malcolm Group, were both transferred to the ITC during a recent official handover ceremony.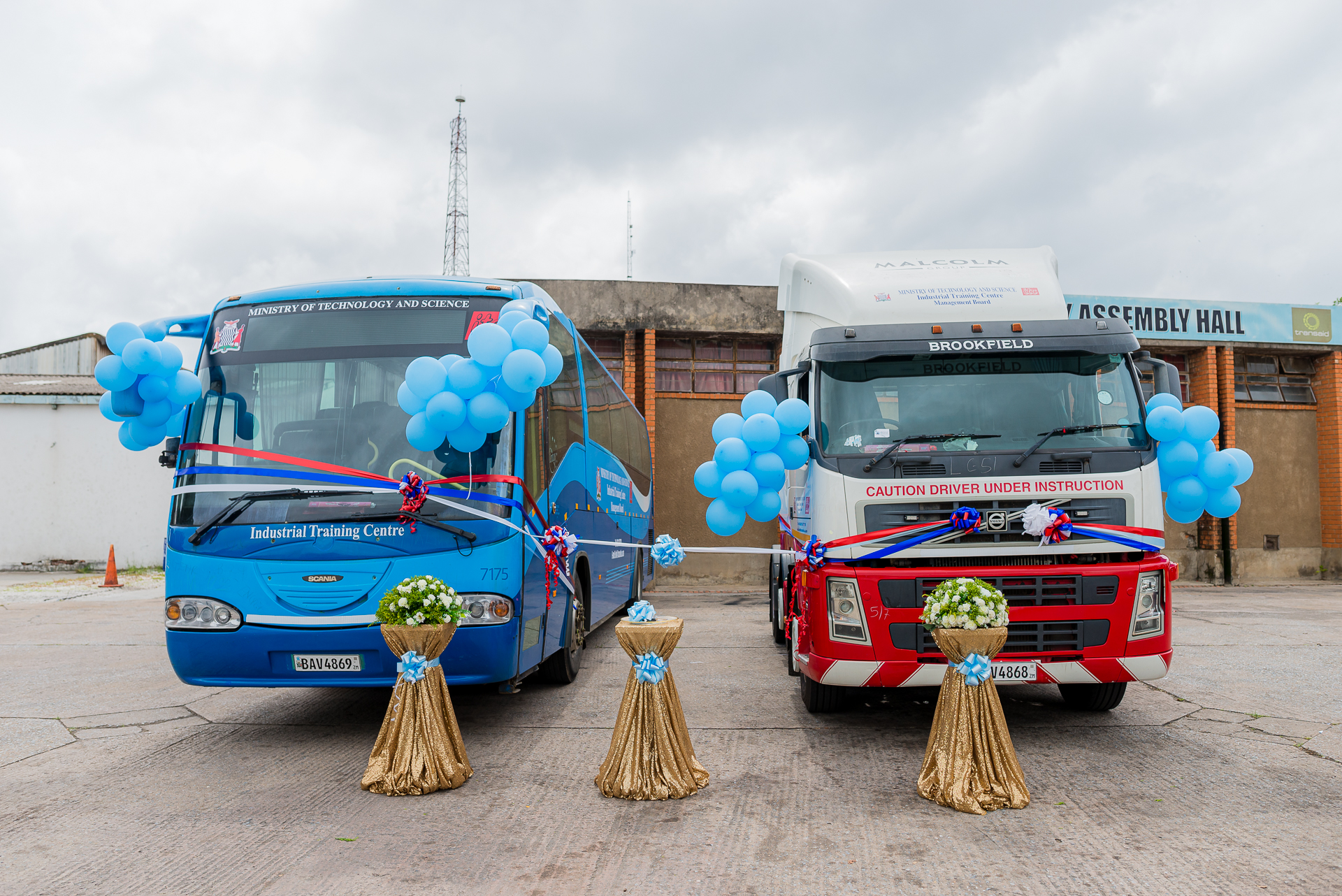 The vehicles will be utilised in the training of drivers, supporting efforts to make the roads safer by improving professional driver training standards in Zambia.
Transaid has partnered with the ITC since 2008, in an effort to help meet the country's growing demand for professional driver training. The ITC is the leading vocational training centre in Zambia for driver training and related courses, offering training on driver training, automotive engineering and electrical engineering. Transaid focuses on supporting the driver training activities which include HGV training, PSV training, FLT training, defensive driver training, driver assessments and carriage of dangerous goods.
The partnership directly supports both partners' belief that every driver should be able to leave for a day's work without the fear that they may not come home because of a lack of training, or having to drive dangerous vehicles.
The purchasing of reliable training vehicles in Zambia is an expensive and often difficult process. The ITC has benefitted from Transaid's close collaboration with the UK transport and logistics industry, which has facilitated vehicle donations from UK companies to the training centre. This marks the third time that the Malcolm Group has donated a vehicle to Transaid's programmes, and the Scania coach is Go-Ahead's second donation, following its donation of a bus in 2019.
Andrew Wickham, Managing Director at Southern Vectis said:

"Coaches, in particular, are an important form of transport in Zambia – and there is an extensive network of routes linking some very isolated communities. However, the high level of road traffic accidents are a concern and there is much to be done in terms of infrastructure and education to put that right.

"We are donating a coach to replace an obsolete vehicle that is over 30 years old, and will ensure the ITC can continue its courses, to make coach driving and maintenance safer. Without it, as the current vehicle gets older and less reliable, there would be a real chance that training activities couldn't take place."
Zambia's Transport and Logistics Minister, Frank Tayali and Technology and Science Minister, Felix Mutati were both in attendance at the handover ceremony. Mr Mutati – the guest of honour, expressed his gratitude to Transaid and said that the donation is a clear demonstration of a partnership that supports skills training. He commended the ITC for delivering the skills, tools, and competencies to raise the capabilities of trainees, and said that the integration of skills development, with the transport and logistics sector working as one force, will help to eliminate inefficiencies and instil competencies in the drivers, whilst enhancing safety on the roads.
Mr Tayali expressed his appreciation to the ITC and Transaid for enhancing training through this collaboration. He urged all transport companies to take advantage of the training that the ITC offers.
Transaid Trustee, Phidelia Mwaba was present at the handover ceremony and said:

"Transaid's partnership with the ITC helps to deliver road safety standards that help to transform lives through training support."
Francis Yamba, ITC Board Chairman commented: "The donation of these vehicles will help people to avoid accidents on Zambia's roads, by delivering knowledge and skills to trainee drivers.
Speaking at the handover ceremony, the ITC's Director, Lloyd Mbasela said:

"Over the years, the strength of our partnership has grown through the delivery of thorough training in professional driving, ranging from class A to class CE levels.

"We are delighted to have received the two vehicles. Both are in good condition and a delight to see. Our driving instructors, the rest of the ITC staff and students look forward to achieving the very best with them.

"Thank you all for your effort and contributions towards this achievement."
Source & photo : Transaid